Mr. Solomon Ocquaye Tettey-Akpeng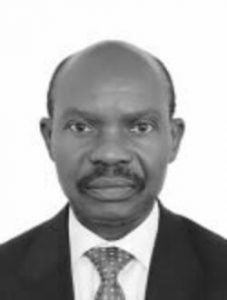 Mr. Solomon Ocquaye Tettey-Akpeng is into Banking and Finance Consultancy with close to 36 years work experience in the Banking industry. He was the Deputy Country Risk Officer, Strategy and Special Projects at Ecobank, Ghana Limited. At Ecobank Ghana he occupied several roles including Branch Manager, Manager – Consumer Banking, Head, Trade Services Department and Head, Remedial Unit of the Risk Management Department.
Prior to joining Ecobank, Mr. Tettey-Akpeng served as the Economic Research Officer, Senior Credit Analyst, Corporate Banking Accounts Relationship Manager and later Manager responsible for Support Services/Credit Administration at Standard Chartered Bank, Ghana.
In 2008, he went on secondment as the first Country Risk Manager, Ecobank Uganda from its inception of business operations, and became the Executive Director for Risk in 2010.
As a private Consultant in Banking and Finance (since June 2020), Mr. Tettey-Akpeng developed the Operational Policy and Procedure Manual, and the Business Continuity and Disaster Recovery Plan for Services Integrity Savings and Loans Ltd. (SIS&L). He is also currently consulting for the Development Bank of Nigeria in their Green Climate Fund (GCF) Accreditation process (still ongoing). He was contracted by the African Development Bank (AfDB) and successfully developed the Operations Manual for the Affirmative Finance Action for Women in Agriculture (AFAWA).
Mr. Solomon Ocquaye Tettey-Akpeng is a team member of IAF Management Services, a firm that is currently undertaking Risk Management consultancy for the Development Bank Ghana Limited.
He is a facilitator for the Chartered Institute of Bankers (CIB) Ghana Certificate Programme in Enterprise Risk Management, Credit Risk and Operational Risk Management and also the facilitator for the Risk Governance Module being rolled out by the National Banking College for Financial Institutions across the country.
Mr. Ocquaye Tettey-Akpeng holds an MBA, Finance from the University of Leicester, UK (Long Distance), and a BSc. Physics, Mathematics and Statistics from the University of Ghana, Legon. He holds an ACIB, Chartered Institute of Bankers (UK) and is an ACCA Affiliate.
Solomon Ocquaye Tettey-Akpeng