ATM Services (Visa)
The SIS&L E-banking Suite is made up of the following:
Card Products: Proprietary Debit Cards (Gh-link)
Channels: ATM1) Card Products
The SIS&L Debit Card is a proprietary card which is GhIPSS EMV-compliant chip-based and can be used on GhIPSS certified emv chip-based ATM terminals across the country
It gives direct access to both your Savings and Current Account.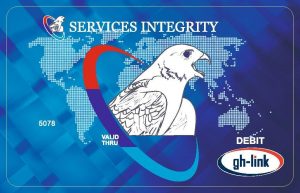 Who May Become an SIS&L Debit Cardholder?
An individual account holder or anyone authorized by the account holder may become a card holder subject to the approval of the Branch Manager in whose branch his/her account is domiciled. SIS&L Debit Card Application Procedure
● The individual account holder must complete an ATM Application Form
● Where the prospective cardholder is not the account holder, both the prospective cardholder and account holder must complete and sign the ATM application Form.
● SIS&L Debit Card will be issued within a maximum of five (5) days.
● Applicant can pick up from the branch they placed the request or from a named branch of their choice
Benefits:
● 24-hour access to cash.
● Unlimited access to your account information.
2) Channels
Automated Teller Machine – ATM
Services Integrity Savings & Loans (SIS&L) provides 24-hour ATM services through a self-service electronic channel that gives customers access to their account information from ATMs (Automated Teller Machines) and performs basic banking transactions quickly, safely, and conveniently without visiting the banking hall. ATM Services available include:
● Cash withdrawals
● Balance Enquiry
● Mini Statement
● Funds transfers (between own accounts)
● Personal Identification Number (PIN) change
Benefits:
● 24-hour access to cash
● Unlimited access to your account information
● Gh-Linked ATM Cards of other banks can be used on SIS&L ATMs
Mobile Banking