FAQs
Please click on the question for the answer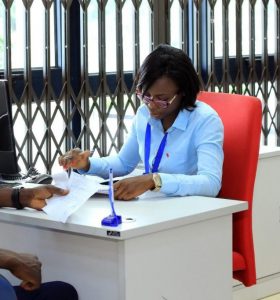 1. What is SIS&L's business operating hours?

SIS&L opens to the public from 8:30am to 4:00pm every Monday to Friday.

2. How soon can an account be opened at SIS&L?

An account at SIS&L can be opened as soon as the necessary account opening requirements are submitted and verified.

3. How long does it take to get a new cheque book?

A cheque book request takes three (3) working days on average to be ready.

4. How long does it take for an ATM request to be ready?

An ATM request takes three (3) working days on average to be ready.

5. Do SIS&L ATM cards work on other banks ATMs?

Yes; SIS&L cards work on any ATM that has been certified by GhIPPS to accept chip-based cards. Some of the certified institutions as at today include the following:● Universal Merchant Bank

● Zenith Bank

● ARB Apex

● Bond Savings & Loans Ltd

● Best Point Savings & Loans Ltd

● National Investment Bank

The list keeps growing so kindly check with SIS&L on a regular basis.

6. What is the minimum initial deposit for opening a Savings Account?

The minimum initial deposit for a Corporate Savings Account is GHS100.00 and GHS50.00 for Individuals.

7. How long does SIS&L take to process loans for GAF Personnel?

SIS&L processes loans within 24 hours after all application requirements are met and an undertaking from Forces Pay Regiment secured.

8. What is the maximum personal loan amount a soldier can access?

The maximum loan amount to a soldier depends on applicant's two (2) years' gross salary subject to a Debt Service Ratio of 65%.

9. Can I pay off my outstanding loan before expiry date?

Yes. SIS&L allows for early loan settlement with no penalties.

10. How is loan deduction done for GAF Personnel?

Loan repayments are deducted at salary payment source by the Forces Pay Regiment and paid to SIS&L on customers' behalf.
FAQs