Mr. Sebastian D.K.N. Gavor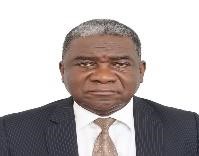 S.D.K.N GAVOR is the immediate past CEO of Services Integrity Savings and Loans Ltd (SIS&L); a position he held from July, 2016 to July, 2019. It was his professional expertise in conducting the feasibility study on the financial institution for the Ghana Armed Forces which resulted in the birth of the company – SIS&L. Mr. Gavor is a Chartered Accountant and an expert in Strategic Planning. He has a vast career in the banking industry spanning well over two (2) decades.
Mr. Gavor started his banking career at Bank of Ghana in 1983 at the Foreign Operations Department. By 1989, he was the Head of Foreign Accounts and also worked as Head of Budget and Accounts Department before exiting the Central Bank in 2000. He established Gavor Consult International Limited that same year and remains the Executive Director of the company to date. Not only has Mr. Gavor worked in banking, but he has also lent his expertise to the Oil & Gas industry and worked with Allied Company Limited, first as the General Manager in 2010 and then as Deputy CEO from 2011 to 2014.
By way of education and achievements, Mr. Gavor is a Fellow of the Association of Chartered Certified Accountants (FCCA) and an Associate Member of the Institute of Chartered Accountants (ICA). He holds a BSc. in Administration (Accounting Option) from the University of Ghana.
His career achievements include the production of a 5-year Corporate Strategic Plan for the Central Bank of Liberia (2001 – 2003), providing technical expertise on a project for the design and implementation of a Financial Management Information System for the largest commercial bank in Liberia (2004 – 2005) and executing a project on the design, development and implementation of Business Plans and Basic Accounting Systems for Opportunity International Development Fund (2009).
He has undertaken several courses and training both locally and abroad including a course on Strategic Planning and Business Plans for SMEs, an International Monetary Fund (IMF) course on Monetary Policy, Bank Regulation Training at the Bank of England, Training on Financial Programming at IMF and Banking Automation at the Bankmaster Centre in the Republic of Ireland.
Mr. Sebastian D.K.N. Gavor