Mr. John Kwasi Dzandu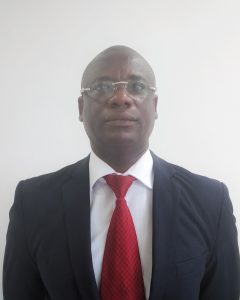 John Kwasi Dzandu is a seasoned accounting and finance professional with over thirty-two (32) years' working experience across various sectors/industries including the Civil Service of Ghana, Management Consultancy and the Financial Services; the last fourteen (14) years being in the Financial Services Sector in Ghana where he held various management positions.
John is a member of the Institute of Chartered Accountants, Ghana (ICAG). He also holds a Master of Business Administration (MBA) in Accounting from the University of Ghana Business School, having obtained a Bachelor's degree in Accounting from the same university. Additionally, he holds a Chartered Diploma in Oil & Gas Accounting from ICAG.
John is very skillful in Strategy Development and Implementation, Financial Reporting, and is an excellent trainer/coach, and a self-motivated professional.
Mr. Dzandu started his professional career with Coopers & Lybrand, now PricewaterhouseCoopers (PwC). Before joining Services Integrity Savings & Loans Ltd (SIS&L), he worked for a number of organizations including: African Ground Operations (Af.G.O.) now Aviance Ghana, CDC Consult Ltd, Initiative Development (I.D.) Ghana. He was also a part-time lecturer at the Institute of Professional Studies (IPS) now University of Professional Studies, Accra (UPSA) and worked at Opportunity International Savings & Loans Ltd (OISL) and BEIGE Capital Savings & Loans – the predecessor organization to the defunct BEIGE Bank.
Mr. John Dzandu