Mrs. Lydia Maku Daddy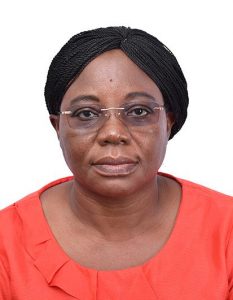 Mrs. Lydia M. Daddy is a highly experienced, disciplined and dedicated Banker, Risk Management Professional and Chartered Accountant. She is the Chief Executive Officer (CEO) for Services Integrity Savings and Loans Limited (SIS&L). Her work with SIS&L started as a consultant where she was instrumental in obtaining the provisional and final license for the setting up of Services Integrity Savings and Loans Limited.
Prior to her time at SIS&L, Lydia spent over 22 years with Merchant Bank Ghana Limited (now Universal Merchant Bank – UMB), where she held various senior roles, including Director Risk Management, Head of Credit Risk Management, Head of Finance for Investment Banking Division of Merchant Bank, Manager – Credit Risk Management Assistant Head, Internal Control, Financial Accountant, and Accounts Officer.
She holds a Bachelor of Business Administration (Management major) from the University of Eastern Africa (UEA) Baraton, Eldoret-Kenya (An affiliate of Andrews University, Michigan). She is a Certified Public Accountant (Kenya).
Mrs. Lydia M. Daddy serves on the Valley View University Board as the Chair of the Audit Committee and Member of the Finance Committee. She is also a member of the Board of the Ghana Association for Savings and Loans Companies (GHASALC). In the past she served on the Boards of Datalink University and the Ghana Adventist Heritage Fund (Savings and Loan Co) where she was the Chairman of its Governance and Risk Sub -Committee.
Lydia Daddy