Brigadier General Daniel Kofi Amissah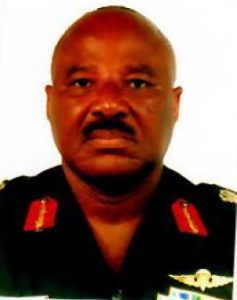 Brigadier General Daniel Kofi Amissah is currently the Defence Financial Comptroller (DFC) of the Ghana Armed Forces. Prior to this position, he was the Commanding Officer (CO) of the Forces Pay Regiment.
Other appointments held in the course of his career in the Ghana Armed Forces include Director of Budget/Finance (Office of Defence Financial Comptroller), Deputy Director of Accounts, Brigade Finance Officer (Headquarters Support Services Brigade), Aide De Camp to the Chief of the Defence Staff – CDS (General HQ Burma Camp). He served in various capacities in the 64 Infantry Regiment notably as Officer Commanding, Assistant Operations Officer, and Transport Officer.
In peacekeeping mission assignment, he has served as Platoon Commander in Liberia and the UN Mission to Cambodia. Finance Officer (UN Interim Force in Lebanon -Ghana Battalion), Chief Logistics and Personnel Officer (UN Operations in Cote D'voire), Finance Officer (UN Mission in Liberia), Military Observer/Admin Officer (African Mission in Sudan). He was a Military Observer and Staff Officer in charge of Transport and Logistics on the UN Mission as Admin Officer to the Western Sahara, Finance Officer to ECOWAS mission to Cote D'Ivoire,Force Mobile Reserve and later as a Company Commander in the UN Interim Force to Lebanon.
Brigadier General Daniel Kofi Amissah is an astute military and management professional with rich experience in both military operations and Board management. He has accumulated a wealth of knowledge in the theory and practice of organizational management at the board level. He is a member of the Institute of Directors- Ghana, Board member of the Ghana Armed Forces Provident Fund, Board of Trustee and a member of the Investment Sub-Committee of the Fund. He is also a Board Member of the GIMPA Alumni Advisory Board.
His civil educational qualifications include Master of Science (MSc) Supply Chain Management (Distinction) from Coventry University, UK and Bachelor of Science (BSc) Entrepreneurship (First Class) from Ghana Institute of Management and Public Administration (GIMPA), a proud alumnus of St. Augustine's College and Institute of Professional Studies now UPSA.
Brigadier General Daniel Kofi Amissah has also undertaken several professional courses. These include; Professional Certificate in Corporate Governance from Institute of Directors Ghana (2014), Corporate Governance Directive training (Millennium Financial Centre) by Bank of Ghana for Savings and Loans Directors (2018), Professional Executive Masters in Mediation/Arbitration from Gamey & Gamey Mediation Academy-Ghana (2015 – 2016) and Executive Certificate in Supply Chain Management from LOGOS Graduate School-North Legon, Ghana.
His military career progression courses undertaken are Accountant A1 Course (Haizel School of Finance), Young Officer's Course (Army Combat Training School), Fire Officer's Course (Armed Forces Fire Training School), Junior Staff Course (GAFCSC -Junior Division), Combat Team Commander's Course (Army Combat Training School) and Senior Command & Staff Course (GAFCSC -Senior Division)
Brigadier General D.K Amissah