Air Vice Marshal Frank Hanson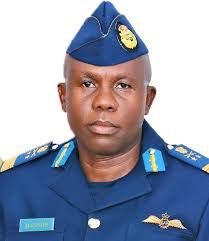 Air Vice Marshal Frank Hanson assumed office as the Chief of Air Staff of the Ghana Air Force in January 2019.
The Air Vice Marshal was commissioned as a pilot into the Ghana Air Force on 17 August 1990. He is an alumnus of both the Ghana and Nigeria Armed Forces Command and Staff Colleges.
At the strategic level, the Air Vice Marshal attended the Air War College at the Maxwell Air Force Base in Alabama, USA, where he graduated with an MSc. Strategic Studies in Grand Strategy. He attended the Senior Executive Certificate Course in National and International Security at the John F. Kennedy School of Government at Harvard University in Cambridge Massachusetts, USA. Notably, the Air Vice Marshal was invited to the International Honor Roll and was duly recognized by the Air War College for his distinguished service.
In a celebrated military career of over 32 years, the Air Vice Marshal has held a number of key command appointments including the Base Commander of the Air Force Base Tamale and Takoradi, Director Training at the Air Force Headquarters. The Air Vice Marshal has extensive peacekeeping experience. He served in Eritrea, Ethiopia and was the Commander of the Ghana Aviation Unit (GHAV 1) in Mali.
Air Vice Marshal Frank Hanson