Major General Thomas Oppong-Peprah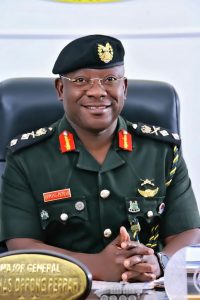 Major General Thomas Oppong-Peprah entered the Ghana Military Academy for his basic military training in 1984 and was commissioned into the Armoured Corps of the Ghana Army in 1986.
He holds a Master of Arts degree in International Security and Strategy from the Kings' College, London (2013 – 2014) as well as an Executive Master of Business Administration degree in Human Resource Management from the University of Ghana, Legon (2006 – 2007). Additionally, the General holds a Bachelor of Science degree in Administration from the University of Ghana (1999 – 2004) and a Post-Graduate Certificate in Public Administration from the Ghana Institute of Management and Public Administration, GIMPA (1998).
Major General Oppong-Peprah has, aside these, undertaken several career courses within the military. These include: Defence Studies at the Royal College of Defence Studies, London, United Kingdom (2010); Law of Combating Terrorism at the Defence Institute of International Legal Studies, Newport, Rhode Island; USA Army and Command Staff Course, Fort Leavenworth, Kansas, USA (2000 – 2001); Senior Command and Staff Course at Ghana Armed Forces Command and Staff College, Accra (1998); Junior Command and Staff Course at the Command and Staff College, Kaduna, Nigeria (1997) as well as Armour Officer Basic Course at the US Army Armour School, Fort Knox, USA(1996).
Some of the appointments held by General Oppong-Peprah in the course of his Military Career include Commanding Officer of 64 Infantry Regiment (2002-2009), Commanding Officer of the then Armoured Reconnaissance Regiment (2004-2005), Director of Strategic Intelligence at the Defence Intelligence Department, General Headquarters (2009-2011), Director of Operations and Plans at the Defence Industries Department of the General Headquarters (2011-2013). He was also the Director, Army Training (2014 – 2016) as well as Chief Staff Officer, Army Headquarters (2016 – 2017). He was the General Officer Commanding (GOC) of the Southern Command of the Ghana Army (2017-2018). Prior to his current appointment as the Chief of The Army Staff (COAS) in February 2020, he was the Chief Of Staff at the General Headquarters of the Ghana Armed Forces between January 2019 and February 2020.
Major General Oppong-Peprah has also held some civil appointments notably, Coordinator of State Transport Security (2001-2008). He is currently a member of the Governing Board of National Disaster Management Organisation (NADMO).
In the field of peacekeeping, Maj Gen Oppong-Peprah has served as a Humanitarian Officer, United Nations Assistance Mission in Rwanda (June – December 1994), Military Observer, United Nations Aouzou Strip Observer Group in Libya/Chad ((March – May 1994) and Staff Officer in-charge of Transport and Plans, United Nations Mission for The Referendum in the Western Sahara (1993). He has also served with the United Nations Interim Force in Lebanon (UNIFIL) as Detachment Second-In Command/Troop Leader on 3 occasions (1987, 1989 & 1992).
Major General Thomas Oppong-Peprah